Frank Pam – Musical Director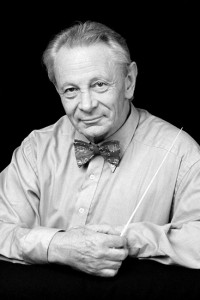 Frank Pam came to Australia from Vienna as a small child. He graduated M.A., B.Ed. from the University of Melbourne and has had a varied career in education and music for over 60 years. He taught English, German, Mathematics and Social Studies at government and independent schools and was a Senior Teaching Fellow in the German Dept. at Monash University.
He joined the Victorian State Office of the Federal Dept. of Education in 1969, as Education Officer, Postgraduate Awards Section, was subsequently Youth Affairs Liaison Officer and from 1986-1989 Assistant Manager, Overseas Student Section.
From an early age Frank has been passionately involved in music.  He sang principal roles in Gilbert & Sullivan from the age of 12, led the school orchestra at 14 and Geelong Junior Symphony Orchestra at 15. He attended 10 National Music Camps, 5 as Coordinator of  Chamber Music, and was Principal Viola of the Australian Youth Orchestra for five years. He studied and performed in orchestras in France, Germany and Switzerland and has played in several Melbourne orchestras, some of which he helped to found.
In 1963 Frank founded the Musica Viva Younger Group Quartet and was President and Musical Director of the Younger Group 1967-1972. He was Victorian Branch Treasurer of Musica Viva  1974-1996.  In 1981 Frank studied conducting with John Hopkins at the VCA.  He conducted the Bendigo Symphony Orchestra, Melbourne Mandolin Orchestra and Maroondah Symphony Orchestra between 1981-1984, including orchestral workshops for amateur musicians from all over Melbourne.
In 1975 Frank founded The Melbourne Musicians chamber orchestra and also played a role in establishing the Bach Players, an ensemble specialising in baroque music, which performed for Musica Viva and other organizations for about ten years. Since 1991 he has been a regular presenter on 3MBS FM.
Bridget Bolliger
Australian-Swiss flautist Bridget Bolliger was born in Sydney, where she distinguished herself early, studying under Jenny Andrews, Jane Rutter and Vernon Hill and performing the Ibert Flute Concerto with the Sydney Symphony Orchestra at the age of 15. She graduated from the Sydney Conservatorium High School and was awarded the ASCM with Merit by New South Wales Conservatorium of Music.
At 18 Ms Bolliger travelled to Switzerland to study with Peter-Lukas Graf at the Basel Music Academy. For four consecutive years she was awarded the coveted Study Grant of the Migros/Ernst-Göhner Stiftung, while also winning the UBS Flute Competition in Zürich, the Kiefer Hablitzel Award in Bern and a prize at the Swiss Woodwind Competition in St Gallen. She attended masterclasses with Alain Marion, Jean-Pierre Rampal and William Bennett, and played Principal Flute with the Gustav Mahler Youth Orchestra under Claudio Abbado and Vaclav Neumann, the Schleswig Holstein Festival Orchestra under Christoph Eschenbach and the European Community Youth Chamber Orchestra under James Judd.
After graduating with the prestigious Soloist's Diploma, Ms Bolliger was appointed Principal Flute with the St Gallen Symphony Orchestra. She also appeared as Guest Principal Flute with the Basel Symphony Orchestra, Zürich Opera Orchestra and Zürich Chamber Orchestra, under conductors such as Nello Santi, Horst Stein, Franz Welser-Möst and Rafael Frühbeck de Burgos.
Ms Bolliger spent three years in Brazil as Principal Flute of the Sinfonica de São Paulo, before returning to Australia where she has played with the Sydney Symphony Orchestra, Melbourne Symphony Orchestra, The Queensland Orchestra, Australian Chamber Orchestra and the Australian Opera and Ballet Orchestra, under conductors including Vladimir Ashkenazy and Patrick Summers.
Bridget Bolliger has appeared as concerto soloist with the St Gallen Symphony Orchestra, Basel Symphony Orchestra, Basel Radio Orchestra, Collegium Musicum Basel, Gruppo Concertistico della Svizzera Italiana (Lugano), Orquesta Sinfónica Simón Bolívar al Teatro Massimo (Palermo), Orquestra Sinfonica do Norte (Porto, Portugal) and the Sinfonica de São Paulo. She has performed the Mozart Flute and Harp Concerto with harpists Elena Zaniboni, Marielle Nordmann and Sarah O'Brien.
As a chamber musician, Ms Bolliger has appeared at the Ainey International Music Festival in Burgundy, the Curitiba International Music Festival in Brazil, the Huntington Estate Music Festival in New South Wales and the Australian Festival of Chamber Music in Queensland. She has collaborated with many distinguished Australian and British musicians, and with members of the Chicago and Montreal Symphony Orchestras.
Ms Bolliger is founder of the New Sydney Wind Quintet, which has become one of Australia's leading chamber ensembles, releasing two CDs, commissioning a work from Ross Edwards and giving numerous world premieres. Ms Bolliger is also founder and Artistic Director of the annual Sydney Chamber Music Festival.
As a flute teacher and chamber music coach, Bridget Bolliger has tutored and given masterclasses in Switzerland, Brazil and Australia. She has taught at the Jugend Musik Schule (Rorschach) and was assistant to Michel Debost at the Oficina de Música de Curitiba. She has taught at the Sydney Conservatorium of Music, the University of New South Wales and the Sydney Conservatorium High School, and given masterclasses for the New England Conservatorium of Music, the Sydney Flute Society and the Australian Flute Festival.
Bridget Bolliger is a Powell Artist, playing on a handmade, 14-carat gold Verne Q. Powell flute.
Sarah Lobegeiger de Rodriguéz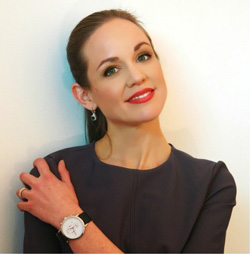 Sarah was born in Perth. She holds a Bachelor of Music (Victorian College of the Arts) and a Masters of Music Interpretation-Classical Singing (New Bulgarian University) as well as a Bachelor of English Literature (Curtin University) and a Master of Speech Pathology (La Trobe University).
Her opera roles include Valetto and Amore (L'incoronazione di Poppea, Monteverdi) performed at the March Music Days International Festival of Ruse and the Sofia Music Weeks International Festival, Bulgaria, Gretel (Hansel and Gretel, Humperdink) for the Ruse State Opera, Bulgaria and Lucy (The Beggar's Opera, Benjamin Britten).
Sarah has appeared as a soloist in numerous concerts and festivals, particularly in Sofia, Bulgaria at Boris Christoff Hall, the National Palace of Culture and also alongside the Sarajevo Philharmonic Orchestra as part of the Nights of Barscarsija Festival. Sarah is currently the Voice Clinic Coordinator at La Trobe University Communication Clinic.
Anne Harvey-Nagl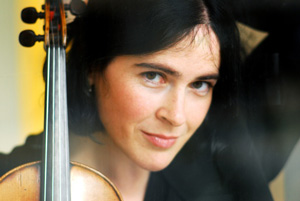 Anne won the National Youth Concerto Competiton in 1986. In 1990 she won the ANZ International Felllowship for musical studies overseas. She performed with the Radio Symphony Orchestra Vienna, Vienna Mozart Orchestra, Vienna Konzertverein, Klangforum and Kammerphilharmonie. From 1999 – 2011 she was Principal Violin Vienna Volksoper, and since 2011 has been the Concertmaster. She is also Concertmaster of the Vienna Opera Ball Orchestra and Ensemble Kontrapunkte. In 1994 she was a soloist with the Vienna Chamber Orchestra in the series "Presenting Young Artists". Since 1995 she has had regular performances as a soloist with the Vienna Mozart Orchestra. Anne has been a member of the Koehne Quartet since 1992.
Miki Tsunoda
Miki Tsunoda studied at the Victorian College of the Arts in Melbourne with Marco van Pagee and Spiros Rantos before furthering her studies at the Liszt Academy in Budapest and the University of Toronto under the guidance of Lorand Fenyves and Ferenc Halasz on violin and Andras Mihaly, Gyorgy Kurtag and Ferenc Rados for Chamber Music.
She has also worked closely with David Takeno, Zoltan Szekely, Valentin Berlinsky, Paul Katz and Rivka Golani over the years.
An active and passionate Chamber Musician, Miki has been a founding member of DUO SOL together with Pianist, Caroline Almonte and the Binneas String Quartet.
Multiple award winning Duo Sol became the First Prize Winner of the prestigious International Chamber Music Competition, Premio Trio di Trieste, finalists at the ARD Munich International Competition and Vittorio Gui International Competition in Florence. Duo Sol appeared in Concert Halls around Australia, Italy, South America and Asia including Accademia Chigiana, Siena, Teatro Colisseo, Buonos Aires, Sala Tripkovich, Trieste, Hamarikyu Hall, Tokyo as well as appearing at Festivals in Bologna, Ascoli Piceno, Sydney, Melbourne, Perth, Townsville, Four Winds, Port Fairy and Woodend.
The Duo has also been an Ambassador for Australia in numerous events including the Australia-Japan Year of Exchange, World Expo in Aichi, Japan, 35th Cultural Exchange Celebration between China and Australia and has toured for Musica Viva Australia and Chamber Music New Zealand over the years.
Tsunoda has collaborated with many of the world's renowned musicians in Chamber Music and in solo performances including Brett Dean, Piers Lane, Tsuyoshi Tsutsumi, Liwei Qin, Claire Edwardes and Conductors, the late Hiroyuki Iwaki, Tadaaki Otaka, Heinz Holliger, Eivind Aadland, Marcus Stenz and Xian Zhang.
She has appeared with many Orchestras as soloist including Ensemble Kanazawa, Nagoya Philharmonic, Kyoto Philharmonic, Sendai Philharmonic, Antwerp Symphony Orchestra and the Melbourne and Tasmanian Symphony Orchestras. Several recordings include "Infinite Heartbeat" and "Duo Tsunoda/Almonte", released by ABC Classics.
Recent collaboration with the Sydney Chamber Opera at the 2017 Sydney Festival has lead to further engagements with the recent production of Britten's The Rape of Lucretia. Engagements during 2017/18 include the Southern Highlands Festival and a tour of India for the Australian World Orchestra and a guest appearance with the Flinders Quartet and Wilma and Friends Concert series.
Since 2008 Tsunoda holds the position of Principal second violin with the Royal Flemish Philharmonic Orchestra (recently changed to Antwerp Symphony Orchestra) and is a frequent guest with the Amsterdam Sinfonietta, Het Collectief Ensemble (Belgium) and Orchestre du Philharmonique, Luxembourg.
Follow @melbmusicians