In order of appearance for 2019:
Frank Pam – Founder & Musical Director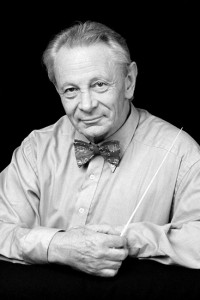 Frank Pam came to Australia from Vienna as a small child. He graduated M.A., B.Ed. from the University of Melbourne and has had a varied career in education and music for over 60 years. He taught English, German, Mathematics and Social Studies at government and independent schools and was a Senior Teaching Fellow in the German Dept. at Monash University.
He joined the Victorian State Office of the Federal Dept. of Education in 1969, as Education Officer, Postgraduate Awards Section, was subsequently Youth Affairs Liaison Officer and from 1986-1989 Assistant Manager, Overseas Student Section.
From an early age Frank has been passionately involved in music. He sang principal roles in Gilbert & Sullivan from the age of 12, led the school orchestra at 14 and Geelong Junior Symphony Orchestra at 15. He attended 10 National Music Camps, 5 as Coordinator of Chamber Music, and was Principal Viola of the Australian Youth Orchestra for five years. He studied and performed in orchestras in France, Germany and Switzerland and has played in several Melbourne orchestras, some of which he helped to found.
In 1963 Frank founded the Musica Viva Younger Group Quartet and was President and Musical Director of the Younger Group 1967-1972. He was Victorian Branch Treasurer of Musica Viva 1974-1996. In 1981 Frank studied conducting with John Hopkins at the VCA. He conducted the Bendigo Symphony Orchestra, Melbourne Mandolin Orchestra and Maroondah Symphony Orchestra between 1981-1984, including orchestral workshops for amateur musicians from all over Melbourne.
In 1975 Frank founded The Melbourne Musicians chamber orchestra and also played a role in establishing the Bach Players, an ensemble specialising in baroque music, which performed for Musica Viva and other organizations for about ten years. Since 1991 he has been a regular presenter on 3MBS FM.
Elyane Laussade – Piano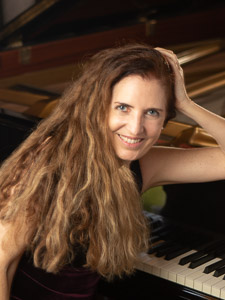 Here is what the New York Times has said about Elyane Laussade, "a pianist with a polished technique. . . . dazzling power . . . and an impeccable sense of style." A graduate of the Juilliard School in New York City, pianist Elyane Laussade has delighted audiences on five continents for her imaginative and strongly individual playing. Originally from the USA, Elyane has now established herself as one of Australia's finest pianists. She has appeared in the MSO's Metropolis Festival with Marcus Stenz and has been featured many times by ABC Classic FM and 3MBS in studio recordings and live broadcasts. She performed St. Saens' Carnival of the Animals with the MSO in Hamer Hall with pianist Benjamin Martin under the baton of Anthony Ingliss. Elyane performed De Falla's Nights in the Gardens of Spain with the Melbourne Symphony Orchestra in the Myer Bowl in a concert which was broadcast across Australia.
As a soloist, Elyane has performed in Australia, New Zealand, Singapore, South Africa, the USA and Europe. She has toured Taiwan where she performed recitals in Taipei, Tainan, Chaiyi, and at the National Concert Hall in Taichung. Elyane was also invited to perform at the first recorded performance at the Elizabeth Murdoch Recital Hall in the Melbourne Recital Centre which aired on the ABC television program "Catalyst." She has also been asked this season to give a lecture/recital at the Performers' Voice Symposium in Singapore. Elyane's current recital tour in the USA includes two different solo programs, one of which is the program that she has recently released on a cd entitled "Just for You." Early in 2013 Elyane joined 27 other pianists from around Australia to perform in the Beethoven 32 Sonatas Marathon at Federation Square's BMW Edge for 3MBS Radio.
Elyane enjoys a rich chamber music involvement along with her solo career. Sometimes in out of the ordinary venues, she recently joined colleagues from the MSO in Messaien's Quartet for the End of Time, which had a special late-night performance in the Old Melbourne Gaol. Her love for the musical experience as a close encounter has inspired her to run a special series of intimate recitals at the Laussade Studio in Melbourne, both as a soloist and in collaboration with Australian musicians and leading soloists from abroad.
Justin Kenealy – Saxophone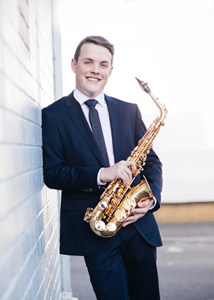 Australian-based saxophonist Justin Kenealy is currently completing his PhD in
Music Performance at the University of Melbourne where he holds an Academic
Assistantship, contributing to the faculty of music performance in both teaching
and research capacities. During his PhD he has studied under Barry Cockcroft,
with the addition of periods of study with Dr Timothy Roberts at Shenandoah
Conservatory in Virginia, United States, Mariano Garcia in Zaragoza, Spain and
Raaf Hekkema in The Hague, Netherlands.
Kenealy has earned fellowships in saxophone performance from Trinity College
London (FTCL) and the Associated Board of the Royal Schools of Music (FRSM).
His other successes include numerous awards such as the 2011 E&D Rogowski
Award for Scholastic promise, the 2014 Lady Turner Exhibitions Award for
excellence, the 2014 Orloff Family Trust scholarship, the 2015 Donovan Johnston
scholarship and the 2017 AEH Nickson travelling scholarship. He has also had
several competition successes, earning first prizes in the 2011 Australian
Saxophone Society Competition, the 2014 Melbourne Conservatorium of Music
Concerto Competition, and the 2015 Australian-Chinese Youth Music Festival
Competition.
Kenealy has performed as soloist throughout Australia, France, the United States,
and China. He performs regularly with the Melbourne Symphony Orchestra and
Orchestra Victoria and has also received guest invitations to perform with the
Australian International Opera Company, the Royal Australian Air Force (RAAF)
Concert Band, the Australian National Academy of Music (ANAM) Orchestra,
Astra Chamber Music Society, the Shenandoah Conservatory Symphony Orchestra
and EDGE Ensemble; the new music ensemble of the Shenandoah Conservatory.
Kenealy's playing has also been featured on ABC Classic FM, Foxtel Arts Channel
and the Chandos recording label.
Kenealy made his concerto debut in 2015, performing the Henri Tomasi Concerto
for Alto Saxophone and Orchestra under the baton of Fabian Russell with the
Melbourne Conservatorium of Music Symphony Orchestra. He has since
performed as soloist with The Melbourne Musicians Orchestra, Preston Symphony
Orchestra, The University of Melbourne Wind Symphony and the Eltham High
School Concert Band.
Kenealy is also a keen music educator, lecturing on a casual basis in Music
Performance and teaching saxophone at the University of Melbourne. He also
maintains an active teaching studio at Carey Grammar School in Melbourne,
Australia, where he provides lessons for approximately 50 woodwind students. In
addition, he has appeared as a guest mentor of 3mbs FM's The Talent competition.
Kenealy is a Selmer Saxophones performing artist and plays Selmer (Paris)
saxophones exclusively.
Anne Harvey-Nagl – violin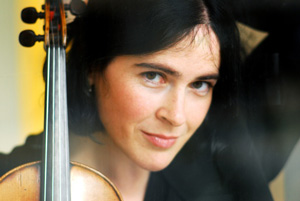 Anne won the National Youth Concerto Competiton in 1986. In 1990 she won the ANZ International Felllowship for musical studies overseas. She performed with the Radio Symphony Orchestra Vienna, Vienna Mozart Orchestra, Vienna Konzertverein, Klangforum and Kammerphilharmonie. From 1999 – 2011 she was Principal Violin Vienna Volksoper, and since 2011 has been the Concertmaster. She is also Concertmaster of the Vienna Opera Ball Orchestra and Ensemble Kontrapunkte. In 1994 she was a soloist with the Vienna Chamber Orchestra in the series "Presenting Young Artists". Since 1995 she has had regular performances as a soloist with the Vienna Mozart Orchestra. Anne has been a member of the Koehne Quartet since 1992.
Sally Clarke – viola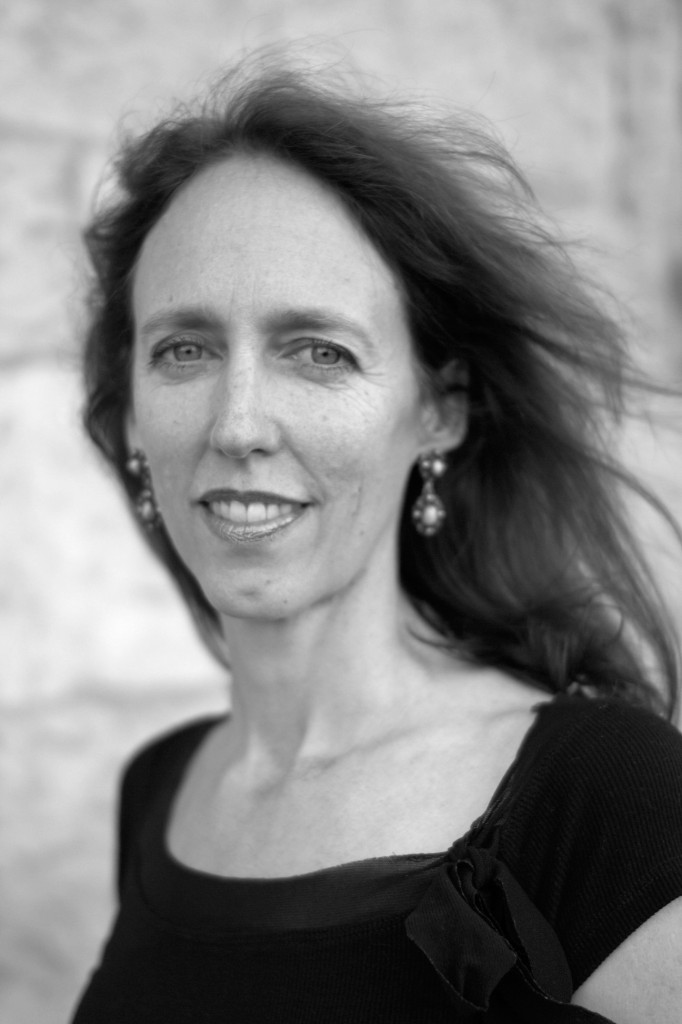 Born in Brisbane, Australia, Sally Clarke began her musical career with violin at the age of 11; one year later she took up the viola as well, in order to play chamber music. She graduated from the University of Queensland with a Bachelor of Music, Honours, degree (and various prizes and distinctions), performing with diverse chamber music groups and as soloist with various orchestras, such as the Queensland Youth Orchestra, on its 1986 New Zealand Tour. A German Government Scholarship (DAAD) enabled her to further her studies with Professor Rainer Moog in Cologne; thereafter she attended the Herbert-von-Karajan Akademie in Berlin, performing regularly with the Berlin Philharmonic Orchestra. In 1988 she was Principal Viola with the Schleswig Holstein Festival Orchestra, under the baton of Sergiu Celibidache, from whose mentoring she benefitted greatly. Chamber music and solo performances have taken Sally to many places in Europe, the Middle East, Australia and Russia. She has participated in various festivals, including those of Townsville and Bangalow, Australia, and in September 2009 the biennial "German Festival" of Krasnodar. In 2014 she made a guest appearance at the World Harp Festival in Sydney.
Sally Clarke's recordings for CD and radio include the rarely performed Sonatas for Viola and Piano by Luigi von Kunits, Wilhelm Killmayer, and Paul Juon. Josef Rheinberger's Klavierquartet op. 38 is available on Thorofon; "another sort of fire", featuring works by contemporary women composers, is available through Bayer Records. Her great interest is expanding traditional "classical" approaches, through "Cross-over" projects involving oriental music, or live dance-theatre.
In 2009 she founded the trio "Blue Ayre", together with Cynthia Oppermann, harp, and Veronika Fuchs, flute. The trio has performed in South Germany, France and Australia; their CD "Blue Ayre" was released early 2013, and features works by Debussy, Bax, Bartok and a specially commissioned work by Cynthia's husband, the Celtic (and experimental) harpist Rüdiger Oppermann. Blue Ayre is also available on iTunes.
Sally has taught at various workshops and masterclasses, notably in Ochsenhausen, or in front of 200 high school students at the Sydney Conservatorium High School, or anywhere in the world via Skype. Her teaching style has been described as particularly empowering and practical; she has worked extensively with orchestral musicians (also a concertmistress!), on viola and violin, seeking to prepare for auditions or just reboot their technique. She believes that miraculous improvement can happen, if the person involved is open to change.
A full-time member of the Radio Symphony Orchestra Stuttgart since 1992, Sally is now also a member of the highly acclaimed Australian World Orchestra. She has appeared with the Chamber Orchestra of Europe and performs often with Ensemble Modern in Frankfurt.
Sally teaches and performs at "Das SommerMusikFest" each year, and otherwise lives with two lovely and very patient children in Karlsruhe, Germany.
Lorenzo Iannotti – tenor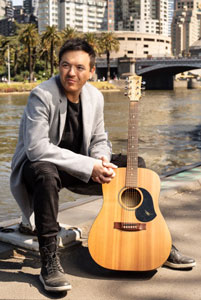 Lorenzo's life-long love for music began the day he found his voice. As a young boy falling in love with music, his commitment & passion for the art has led him on a musical life journey.
During high school, Lorenzo won a scholarship to study classical music at the highly regarded Melba Conservatorium of Music. During his time there, a new, disciplined and academic approach added a professional sheen to Lorenzo's vocal timbre.
Of Italian heritage, he was born and raised in Melbourne.. As a classically trained tenor, combined with his love for contemporary music, Lorenzo's songs are a powerful mix of strong vocals, creative melodies and powerful lyrics.
Lorenzo recently signed a US Publishing Deal and a worldwide distribution deal in USA which will take his music, his brand, and talent worldwide. With a rising profile and growing support base, Lorenzo continues to expand his vast original repertoire.
Mia Yang – violin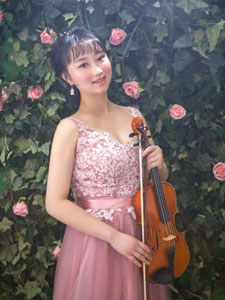 Australian Chinese Violinist Mia Yang has performed throughout China (Sichuan, Beijing, Hubei, Shanghai, Hunan), Singapore and in Australia, and has performed in regional cities throughout Victoria. Mia has received the Bertha Jorgensen Exhibition and Corinna D's Hage Mayer String Scholarship from the University of Melbourne. As a prize‐winner, she has won state‐wide and national competitions in China. Recent recital engagements include performances at the Great Hall of Goodenough College (London) and the Snowy Monaro Arts Council (Cooma). Mia has recorded and performed for 3MBS, 5MBS and ABC FM as a recitalist and concerto soloist where her recent highlights include concertos by Saint‐Saëns, Wienawski, Mozart and Beethoven. Forthcoming engagements include performances at the Cope‐Williams Arts Foundation and Recitals Australia; concertos by Saint‐Saens and Beethoven's Triple Concerto. Mia will release her debut CD in November 2019.
Mia will return to China and England in 2019 for recitals and concerto engagements. Critics have praised her playing for 'clear warm tone …attacking the more motivate sections with determination there was no confidence lacking in her performance.' Mia has performed and recorded for provincial radio throughout China, as well as national radio in Singapore. She has also performed frequently as a guest concerto soloist, and recent engagements include concerti by Mozart (D major, G major, A major), Haydn, Sibelius, Bruch, Mendelssohn and Tchaikovsky with various orchestras.
David Soo – piano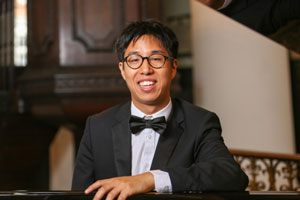 Australian pianist David Soo has performed throughout Australia, China, Spain, United Kingdom, Malaysia and Indonesia. Recent highlights include performances for the Queen Elizabeth II, the Australian High Commissioner (London), the City of London Lord Mayor/Lady Mayor and Sheriffs, and the former Prime Minister of Malaysia, Najib Tun Razak. David has performed regularly on ABC FM, the Australian Fine Music Broadcasting stations, FMITE Spanish Radio and also for New Zealand Classic FM. David's many prizes includes winning the Melbourne Recital Centre's Elizabeth Murdoch Prize, the Sydney Eisteddfod's Allison/Henderson Piano Scholarship, the Oxford Music Festival's Professional Recital Prize, Emanuel Trophy Piano Competition, the Australian Music Foundation award and the Guildhall Beethoven Glass Sellers Prize. He has also been a laureate in international competitions in Malaysia and France, the Australian National Piano Award, and a national finalist in the 2014 Symphony Australia Young Performer Award.
Described as being a 'virtuoso of the first rank' and for his 'consummate authority and passion,' Australian pianist David Soo has performed in Australia, China, Malaysia, Indonesia, France, Spain and the United Kingdom. Recent highlights include performances for Her Majesty Queen at Goodenough College, the Lord and Lady Mayor, the Sheriffs at the City of London, the Australian ambassador to the United Kingdom, and the former Prime Minister of Malaysia. His performances have also been heard live on Australian Classic FM, New Zealand Classic FM and FMITE Spanish Radio.
David's forthcoming performances include Beethoven's first and fourth concertos in Australia, as well as further performances in Australia, China and the UK. David's many prizes include winning the Elizabeth Murdoch Prize Great Romantics Competition, the Worshipful Company of Glass-Sellers of London Beethoven Prize at the Guildhall School, the City of Sydney's Allison/Henderson Piano Scholarship, the Oxford Music Festival's Professional Recital Prize, the Emmanuel Trophy Piano Competition and the Australian Music Foundation award. He has also been a laureate in international competitions in France and Malaysia, the Australian National Piano Award, and was a national finalist in the 2014 Symphony Australia Young Performer Awards.
David's has performed at Australia House, Barbican Concert Hall (Barbican Centre), Milton Court Concert Hall, Princess Alexandra Hall, the Melbourne Recital Centre, the ABC Studios in Adelaide and Melbourne, Lixu Concert Hall (China), and the Kuala Lumpur Exhibition and Convention Centre (Malaysia).
David completed his undergraduate degree at the University of Melbourne where he studied with Glenn Riddle and graduated with First Class honours. He subsequently graduated with a Guildhall Artist Masters and an Artist Diploma with distinction studying with Joan Havill. He is currently a fellow at Guildhall.
David's studies are generously sponsored by the Australian Music Foundation, Help Musicians' UK, the Zetland Foundation, the Mary Elizabeth McComas Scholarship, and the Youth Music Foundation Australia.